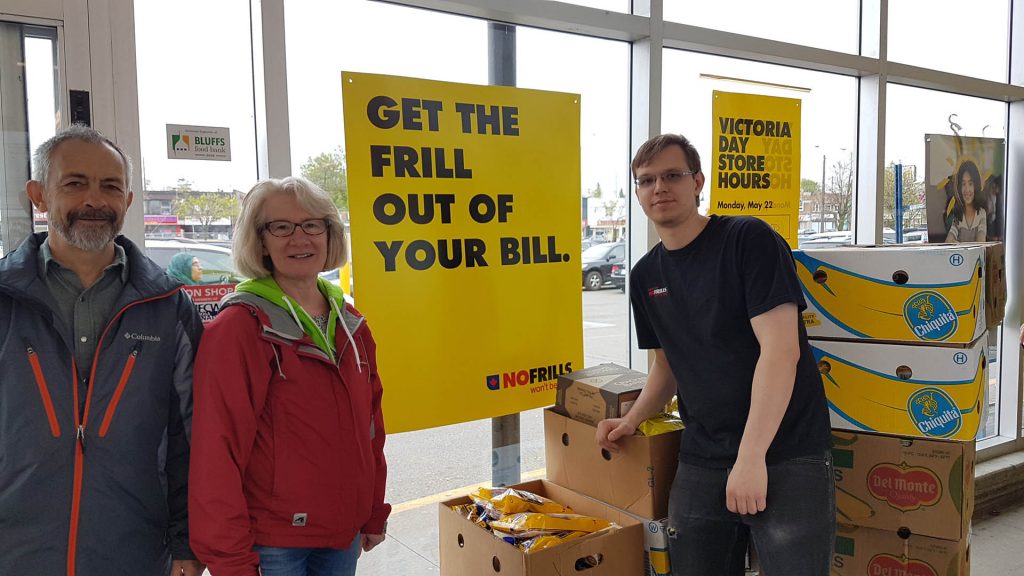 Rod and Joe's No Frills located at Kingston Road and Midland Avenue has been a strong partner of The Bluffs Food Bank for years. In addition to being a resource for food storage questions and best practices, they've been generous donors to the food bank.
Recently they completed a store wide inventory count and put aside 20 boxes of canned and dry goods to donate to The Bluffs Food Bank. This in addition to the two or three boxes of dairy, packaged meats and assorted perishables they donate every week.
Recently they included The Bluffs Food Bank in the company wide No Frills Pay It Forward campaign which encouraged shoppers to put coupons into a box for different local charities. Those coupons translated into a cash donation for the food bank.
All of this and they maintain a food bank donation box at their store and have for years. The Bluffs Food Bank is truly blessed to have partners in the community like Rod and Joe's No Frills.
Thank you!
Pictured above are Gerry and Susan (left), volunteers at the food bank who help pick-up donations from No Frills and other locations every week. No Frills employees like George (right) are always so helpful and caring when working with The Bluffs Food Bank.