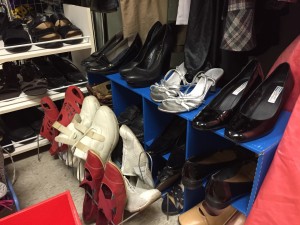 The clothing boutique offers gently used clothing and small housewares at hugely discounted prices, over 95% of items in the clothing boutique can be had for a few coins through two dollars.
Why the Boutique?
Many of our clients who come to the boutique have just moved into the area and don't have some of the basics you'd expect to find in a home like flatware or a dishes. Others have small children and the cost of clothing elsewhere is prohibitive after the cost of food and shelter is considered.
I'd like to donate clothes or housewares, what do you need?
Firstly, thank you for your generosity. Without folks like yourself there simply wouldn't be the Bluffs Food Bank, let alone a clothing boutique. Because of our limited space and resources, we only stock clothing in good condition, in season clothing that are free of tears, rips, missing buttons or stains. Housewares in working order and free of damage are also kept in stock.
Women's clothing

Sizes 2 – 14
Casual through business casual
Items appropriate for weddings and funerals

Men's clothing

Sizes 30 – 36
Casual through business casual
Items appropriate for weddings and funerals

Housewares

Small appliances in working order
Cutlery, glassware and crockery

Children and babies

Diapers
Clothing for boys and girls aged infant through 12
Donate to the Clothing Boutique