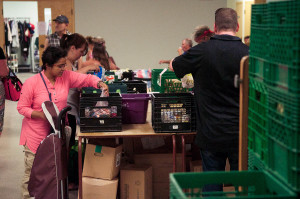 Our grocery program provides clients with a three to four day supply of groceries. About half of our groceries come from The Daily Bread Food Bank and about a third from Second Harvest.  The remainder comes from local food donations and we use financial donations to augment what we receive from Daily Bread and Second Harvest.
Delivering Nutrition
The Bluffs Food Bank prides itself on putting together nutritionally balanced grocery hampers for our clients. Milk, meat, fresh fruits and vegetables usually aren't included in groceries provided by Daily Bread and Second Harvest so we use monetary donations to buy these items at the grocery store. Ever mindful of the generosity of donors, we're diligent to seek out sales, specials and coupons when grocery shopping for these items.
Who Receives Grocery Hampers?
We provide groceries for single clients through families with up to 12 people. In addition, we provide groceries for clients who may not have access to refrigeration, cook on a Coleman-type stove or are homeless. Providing groceries for the homeless requires special care. We include resealable plastic bags and food which comes in small containers so it can be consumed in one sitting. We've worked with our clients to understand the challenges they face in storing and preparing food and are continually developing solutions to help feed Birch Cliff's hungry regardless of their housing.
Donate Food