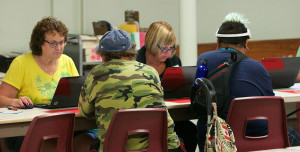 After a few years of the Bluffs Food Bank growing we began to realize many of our clients weren't receiving benefits from the government such as the Child Tax Credit, HST rebate or Trillium Benefit. The problem, of course, is many of them hadn't filed their taxes which is required by the government in order to receive these benefits.
Hundreds of Tax Returns Every Year
Since the introduction of the Income Tax Clinic, The Bluffs Food Bank processes over 500 personal tax returns every year. Some of our clients haven't filed their taxes for several years. In these cases we do our best to accommodate them and put them in a position to get caught up with their tax filing and start receiving benefits.
Help us Complete Tax Returns