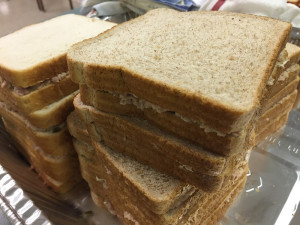 When clients visit our food bank on the first time on a Thursday they often haven't had anything to eat that day. We launched the meal program to help feed Birch Cliff's hungry, provide them with a nutritious meal and provide them with a time to socialize with us and each other.
What's Included in the Meal Program?
Each week a team of dedicated volunteers prepare egg, tuna, ham and pickle sandwiches and – when we have the ingredients – chicken salad sandwiches. We also provide two soups: a vegetarian option and one containing meat. Almost 30 loaves of bread are used preparing sandwiches each week. The soup, sandwiches, coffee, tea and water give clients who can often lead a lonely life a chance to share a meal with others.