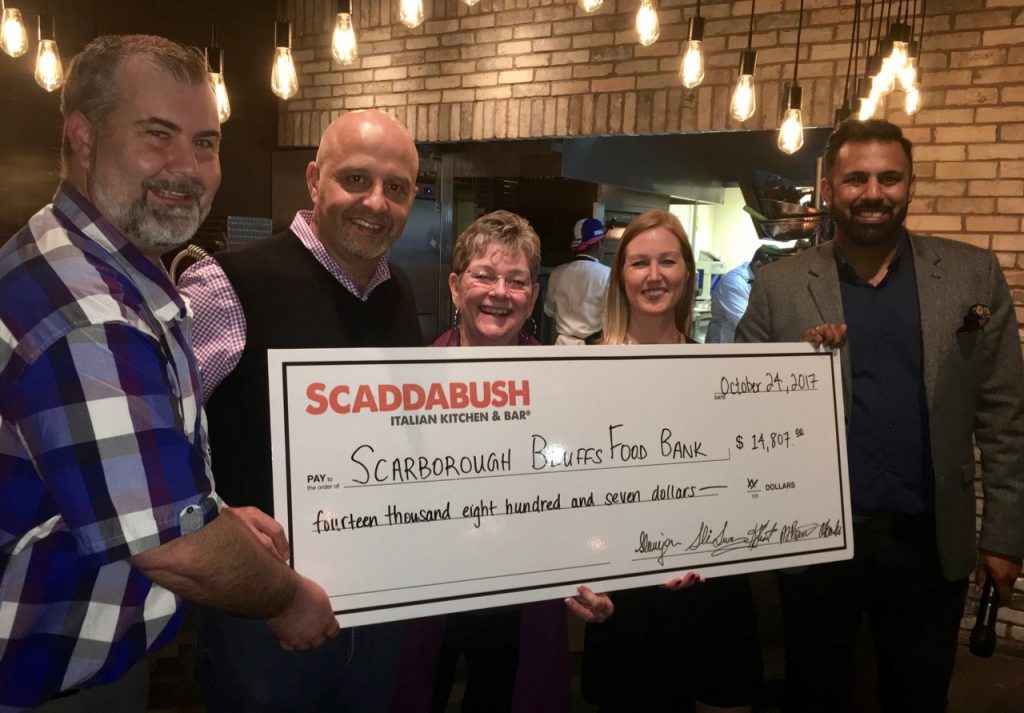 Scaddabush Italian Kitchen & Bar made good on their promise to ensure kids won't go hungry in the Bluffs this year with a donation of $14,807 this fall.
Scaddabush reached out to The Bluffs Food Bank a year ago as they were readying to open a Scarborough location. Their interest was in being a partner in the fight against hunger in the community they serve. Every time a guest at Scaddabush's location at the Scarborough Town Centre orders Charity Bread, the proceeds come to The Bluffs Food Bank.
"It's a great partnership," Gail Barkic, president of the food bank said. "Scaddabush is a great restaurant for family meals or a drink after work and their Charity Bread tastes great. They wanted a meaningful partnership and their approach to helping feed hungry kids in the Bluffs is a true win-win."
Each Scaddabush partners with a local charity as part of it's returning to the community ethos. Investing in the communities they operate in is at the core of their values and beliefs. Next time you're heading out for dinner, try Scaddabush at the Scarborough Town Centre and be sure to order Charity Bread.
Form left to right: Bluffs Food Bank board member, Mathieu Yuill, Scaddabush Vice President, Mike Cappiello, Bluffs Food Bank president, Gail Barkic, Scaddabush Scarborough Assistant General Manager, Shannon Carrigan and Scaddabush Scarborough General Manager Ali Awan