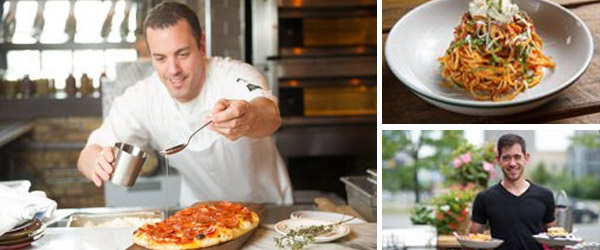 SCADDABUSH Italian Kitchen & Bar has opened in Scarborough, bringing its made-from-scratch menu to the community, including shareable plates so everyone around the table can enjoy a little bit of everything in a warm, eclectic atmosphere.
Proceeds from every order of SCASSABUSH's guest favourite, Charity Bread, goes to The Bluffs Foodbank.
As part of the generous spirit that is SCADDABUSH, the restaurant has a strong desire to give back, as they believe that food not only brings people together, but creates a space for meaningful community contributions. With each restaurant launch, the new restaurant selects a very deserving, local charity to whom they wish to donate the net proceeds of its Charity Bread. Current partners including the Mississauga Food Bank, Sick Kids, and Starlight Childrens' Foundation will now be joined by Bluffs Food Bank. SCADDABUSH Charity Bread is a scratch-made, warm and savoury signature dish, made right on site every morning. Fresh-herbed focaccia is baked until it is golden brown and then covered in a warm, rosemary parmesan and garlic butter. It's served in a warm cast iron pan and pre-scored into squares to allow for it to be easily shared among friends.
"SCADDABUSH Charity Bread has been a guest favourite for years. So much so, that with our Scarborough launch, we have extended our Charity Bread offering to now include a 3-cheese or spicy chili and pepper recipe. In short, they are incredible! But what is more incredible is the support that we see from our guests in purchasing this well-loved item, so that each year on our anniversary, we are able to make a contribution to exceptional charities like Bluffs Food Bank," said Steve Silvestro, Executive Chef at SCADDABUSH Italian Kitchen & Bar.
The Bluffs Food Bank opened 14 years ago with 24 families being served. Today, up to 350 families (approximately 500 people) — about half of this group being children — receive groceries every week. SCADDABUSH is looking forward to supporting Bluffs Food Bank and giving new hope to children, their families and others who suffer from food insecurity in South-West Scarborough, where this is the only food bank available to them.
"We are excited about this partnership, as it will make such a difference to so many people in Scarborough! SCADDABUSH and Bluffs Food Bank have so many great things in common — a strong desire to give back and the emphasis on food bringing people together socially," said Gail Barkic, Bluffs Food Bank lead volunteer.