In the 2016 Daily Bread Food Bank Who's Hungry annual report, statistics showed an overwhelming upward trend in food bank usage outside of the downtown core — including Scarborough where The Bluffs Food Bank is located —  and a decrease in food bank usage in the downtown core.
Since 2008, usage outside of the downtown core has risen 48% while at the same time, usage in the downtown core has dropped 16%. The Bluffs Food Bank has seen a usage increase of 108% in the same time frame.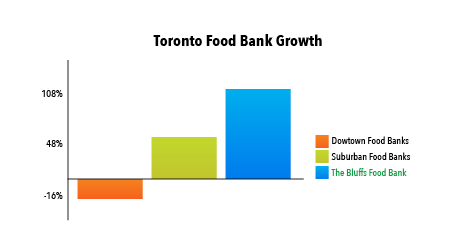 The first substantial increase came following the 2008 recession which never receded. Another significant increase was seen towards the end of 2014 and early 2015. Usage in the suburbs continues to trend upwards.
The Bluffs Food Bank is seeing this particular trend due in part to the amount of food insecurity happening in our neighbourhood as a result of increased living costs including the price of rent, food and living expenses.
Combined with the decreased availability of employment with wages which provide enough to support a family, many Bluffs Food Bank users are often having to make a choice between paying rent or eating a meal.
The other trend mirroring this increase is the age and education level of food bank users. The vast majority of new food bank users are adults who still have children at home but have lost their job and been unable to find new work. In similar fashion, in 2006, just 22% of food bank users had a post secondary education while today, 36& have a college diploma or university degree.