Your donation allows the Bluffs Food Bank to rapidly and efficiently respond to the needs of Birch Cliff's hungry. A donation to the Bluffs Food Bank is an excellent return on investment in your community.

Hot meals for an individual

Groceries for a family for five days

Infant Care Kit including diapers, formula and more.
Other Ways To Donate
Become a Major Donor
The Bluffs Food Bank has been committed to ending hunger in Birch Cliff for more than a decade and we have shown no signs of slowing down. When you make the decision to become a major donor, we work with you to ensure your philanthropic goals are being stewarded in the way you intended. 
Contact us
 to discuss how your philanthropy can be multiplied many times over.
Leave a Legacy Donation
When you look back at your life's journey, it's normal to ask "What will be my legacy?" Leaving a legacy donation will benefit generations to come and can answer these questions.
Contact us
to discuss the many ways you can cement your legacy.
Donate Securities
A donation of securities such as stocks or mutual funds has many benefits beyond helping feeding Birch Cliff's hungry. Your gift is credited at the value of the securities at the time of transfer and is free from capital gains taxes. 
Contact us
 to discuss the process for donating securities.
Make a Corporate Donation
There are many ways to make a corporate donation. Being a corporate partner of the Bluffs Food Bank is a stalwart partnership. It sends a clear signal about shared values and beliefs about bringing dignity to the hungry. We can also partner in corporate team building that incorporates volunteerism.
Contact us
to discuss how we can best fulfill your needs around a corporate donation.
United Way At Work
A You may also donate through the United Way at Work program, by providing your employer with our name "Churches by the Bluffs Food Bank" and our registered charity number "87662 2903 RR0001". 
Contact us
if you have any questions about the United Way At Work program.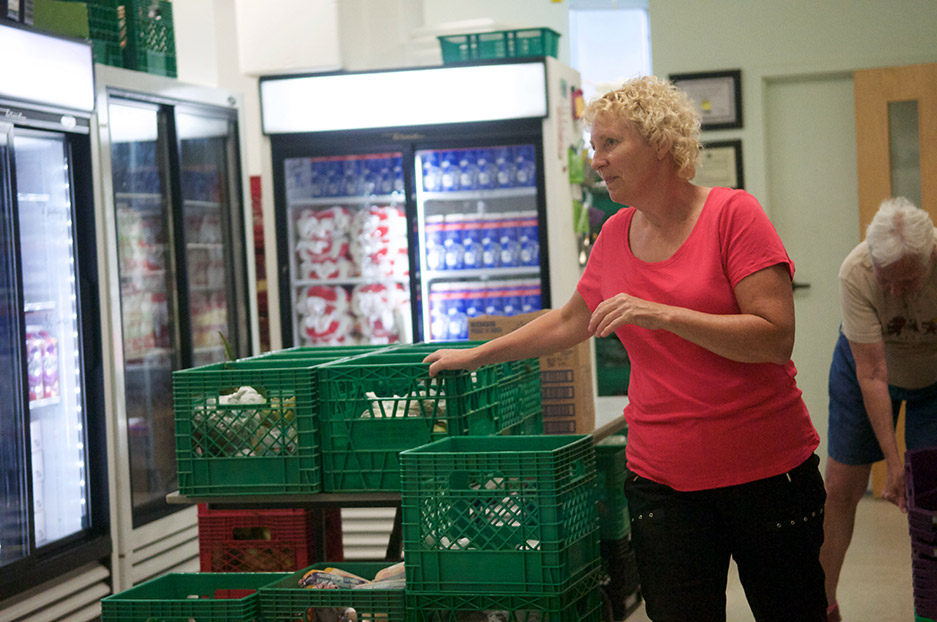 Your Donation Goes to Work
The Bluffs Food Bank is a 100% volunteer-run organization. Your donation goes right to work helping end hunger in Birch Cliff. Over 80 cents of every dollar goes directly to program expenses with the remainder supporting the food bank's office and general expense responsibilities.